Without a doubt, you could write a newsletter, but a great newsletter consists of more than just good content. The comparison chart that follows will help you to decide…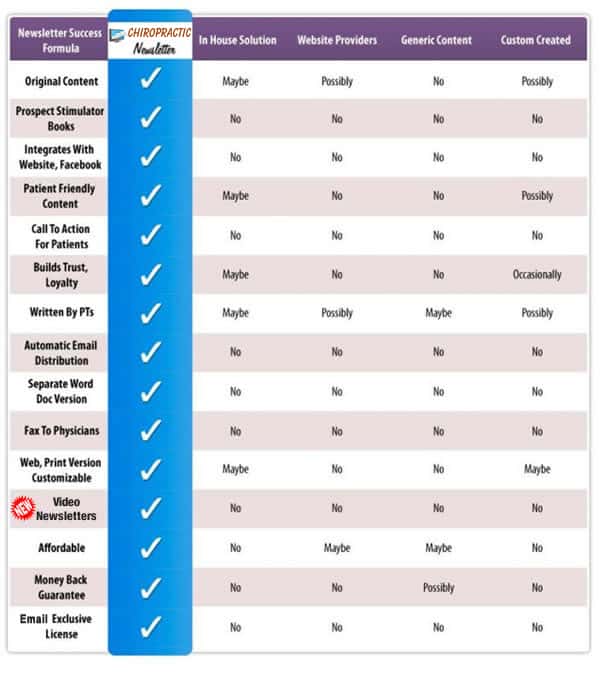 Chiropractic Newsletter Will Do the Heavy Lifting For You…
Everything done-for-you…Chiropractic Newsletter is guaranteed to give you the freedom to decide how you want to spend your valuable time. End the long hours added to your work days spent trying to figure out the best way to market your clinic to new and existing patients; establish a rapport with your patients and keep it, along with writing, editing, and formatting a newsletter every month that has fresh content. Stop being a virtual stranger to your family and friends because you feel too exhausted and overwhelmed by the end of every work day, for these truly important relationships. Chiropractic Newsletter will distinguish your clinic from your chiropractic competitors, delivering clear, consistent and compelling messages, professionally written, that influence and create more patients.
Each newsletter is sent to your patients with flawlessly written text, crystal-clear images, with articles that highlight different patient-relevant areas of chiropractic, clearly defining your niche of the chiropractic market, letting your patients know that chiropractors are more than doctors for back and neck pain, building trust through understanding. Chiropractic Newsletter will inspire patient actions that lead to calls to your clinic for appointments, and that will have patients talking about YOUR clinic to their family, friends and spheres of influence at work.
Yes, you most likely could write your own newsletter if you had the time and the energy for this monthly chore, but with Chiropractic Newsletter working hard for your clinic two times each month, connecting with new and current patients to build rapport and generate internal referrals with its completely done-for-you systems…why would you want to? Let us do the "heavy lifting" for your clinic starting today.